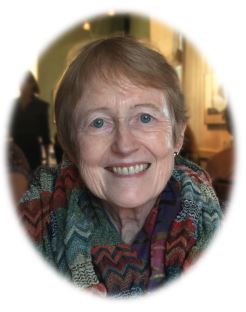 CELEBRATING THE LIFE OF MAGGIE PHILLIPS PH.D
A LEGACY OF GIFTS……
You can shed tears that she is gone
Or you can smile because she has lived
You can close your eyes and pray that she will come back
Or you can open your eyes and see all that she has left
Your heart can be empty because you can't see her
Or you can be full of the love that you shared
You can turn your back on tomorrow and live yesterday
Or you can be happy for tomorrow because of yesterday
You can remember her and only that she is gone
Or you can cherish her memory and let it live on
You can cry and close your mind, be empty and turn your back
Or you can do what she would want: smile, open your eyes, love and go on.
David Harkins
It was with great sadness that we learnt of the passing of our dear friend and colleague, Maggie Phillips. She was truly a giant in the field of Ego State Therapy and her work leaves with all of us a legacy of great gifts. Not only did she make a significant contribution to the fields of trauma, dissociation, clinical hypnosis, Somatic Experiencing for trauma and chronic pain management, but also contributed greatly to the foundational intervention model of Ego State Therapy that is used worldwide today. She was particularly interested in the interface of trauma, dissociation, and emotional and physical pain conditions.

Maggie lived and worked as a licensed clinical psychologist in private practice in Oakland. California. She was the director of the California Institute of Clinical Hypnosis and past-president of the Northern California Society of Clinical Hypnosis. She has served on the faculties of the American Society of Clinical Hypnosis (ASCH), American and European Congresses of Ericksonian Hypnosis and Psychotherapy, the Eye Movement Desensitization and Reprocessing International Association (EMDRIA), the Esalen Institute, the European Society of Hypnosis in Psychotherapy and Psychosomatic Medicine, the International Society of Hypnosis (ISH), The Professional School of Psychology, the Society for Clinical and Experimental Hypnosis (SCEH), the International Society for the Study of Dissociation (ISSD), the International Transactional Analysis Association (ITAA), the University of California at Santa Cruz, Ego State Therapy International (ESTI) and Somatic Experiencing International.

She was co-recipient of the Cornelia Wilbur Award from the International Society for the Study of Trauma and Dissociation and recipient of the President's Award and the Crasilneck Award for the best new writing in the field of hypnosis from ASCH.

Maggie presented, amongst others, training in hypnosis, psychotherapy, chronic pain, Somatic Experiencing, Ego State Therapy and mind-body healing in the USA, Canada, France, Italy, South Africa, Australia, Scandinavia, Hong Kong, China, Malaysia and Japan.

In an interview for the ESTI Newsletter (Newsletter 2 of 2015) she was asked what she regarded as her contribution to psychology: "I've always been interested in how to combine different methods and ideas. Years ago, I published a paper on AIDS based on my work with several aids patients. I realized that my approach was something like the "AIDs Cocktail". I think that's a good metaphor for my approach."

As a young clinical psychologist Maggie moved to California, where she met Steve Gilligan, a well-known Ericksonian therapist. She attended the Ericksonian Congress in Phoenix, Arizona and became an enthusiastic follower of the ideas of Milton Erickson. His utilization approach helped her to connect well with her clients and to teach them that they had resources and solutions within them that could be used to resolve many of their symptoms and difficulties. She remained fascinated with this approach and as a passionate Ericksonian psychotherapist, Maggie became involved in the activities of the Northern California Society of Clinical Hypnosis, which was affiliated with the American Society of Clinical Hypnosis. She served on the board of this society, became its president, and during this time met Dr. Claire Frederick and Dr. Shirley McNeal who were also active in the society. Dr. Frederick convinced her to start attending the ASCH annual conferences. During the first congress she attended in 1990, Dr. Frederick encouraged her to attend the workshop of Jack and Helen Watkins. She was mesmerized by what they were teaching, namely, an approach they referred to as Ego State Therapy. She found that Ego State Therapy was what had been missing in her hypnotic interventions and discovered that clients who did not respond to her usual applications of direct and indirect suggestions, responded very favorably when asked to find and communicate with various parts of the self. The ego state approach allowed her to effectively help traumatized clients and basically opened a new therapeutic approach for her to use in her work. This approach she shared with all of us.
Maggie authored numerous papers and articles in the areas of ego-state therapy, clinical, medical, and Ericksonian hypnosis, and the treatment of post-traumatic and dissociative conditions. She has written four books, Healing the Divided Self (written with Dr. Claire Frederick). In this book they presented the SARI model, a four stage method of using hypnotic Ego State Therapy to heal the self that has been fragmented through trauma. Her second book, Finding the Energy to Heal, combines the principles of Energy Psychology with hypnosis, EMDR, imagery and Somatic Experiencing to heal mind body symptoms and disorders. Her last two books, Reversing Chronic Pain, and Freedom From Pain (written with Dr. Peter Levine), focus on a 10-Step Model to reverse the effects of chronic pain, and the use of Somatic Experiencing to prevent and resolve pain conditions that result from trauma, respectively. From the aforementioned it is clear that she made significant contributions to the fields of Ericksonian Psychotherapy, Somatic Experiencing, Ego State Therapy and in the areas of pain and mind body healing.
Maggie and I closely collaborated on the idea of establishing an international academic forum for Ego State Therapy. This idea led to the establishment of Ego State Therapy International. She served on the board of ESTI since it's inception in 2011 and also served as newsletter editor.
On a more personal level, who will forget her love for Ego State Therapy, her enthusiasm for psychotherapy, and of course, her tremendous sense of humour. She was a great mentor, master teacher, and friend to her students and colleagues alike, always encouraging, motivating and sharing her knowledge. She leaves a legacy of gifts to all who knew her and also to future generations.

What struck me most about Maggie was her passion for and commitment towards democratic values, racial equality, the rights of women and the LGBTQI community.

Let we all carry her values and the gifts she left us.

Woltemade Hartman Ph.D
On behalf of: Ego State Therapy International (ESTI) friends and colleagues.